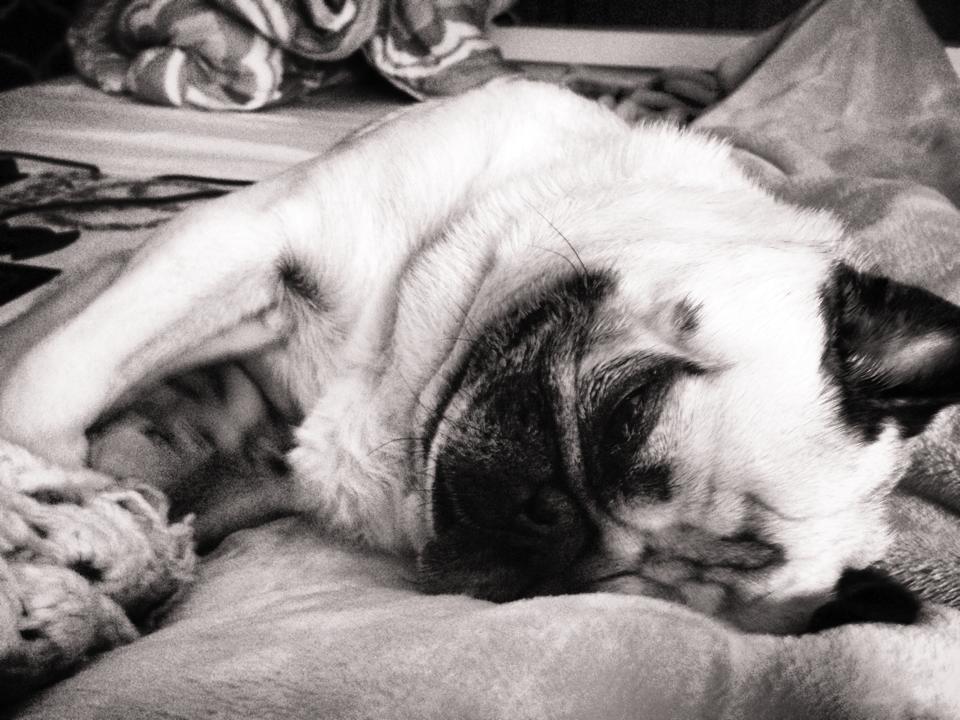 Miss Pugalicious
Pugalicious was formerly my friend Mary's dog. We met up to tour South Dakota together with my two daughters. My oldest daughter fell in love with Faith (the pug's original name). The two hit it off instantly; at the end of our journey, Mary gifted Autumn Puggy, where she became an addition to our family. 
Puggy was a loving and gentle dog, enjoying the company of everyone in the household. We had two Siberian huskies, Simba and Kiara. She also adored my cat, Mr. Sully. She spent her days hanging out with Autumn when she was home and following the others around when she was away. She looked up to the huskies, wishing she was one of them, begging to be the led dog when we hooked them up to the wagon.
When the huskies grew older, Kiara got sick with lung cancer and passed quickly. Simba followed her death two months later. Puggy missed the huskies deeply and grieved the loss of her canine companions. She spent the next few years teasing and chasing Sully, embracing the idea of being the only dog-child of the household.
Soon, she grew older, and her body started becoming fragile. This is pretty common with pugs. Sully also grew older and eventually struggled with kidney failure. After Sully passed, Puggy became more frail, missing the huskies and Sully too. Her back legs could barely hold her up, but she was determined to live and enjoy Autumn's company. She lived through Autumn's preteen and teen years, college, and then moving off on her own. After they moved to Michigan, Puggy's health deteriorated quickly. Both Sully and Puggy passed in December, a few years apart.
Puggy was a fun dog but very faithful to my daughter. She belonged to one human, and that was Autumn. She waited for her at the door when she knew she would be coming home soon. She lived a long life and outlived the huskies and Sully. Despite her failing body, she continued to be happy and loved life.
Be free, Miss Puggy, and enjoy the carefree life at the Rainbow Bridge. We will meet again soon.