Two Angels and Four Wings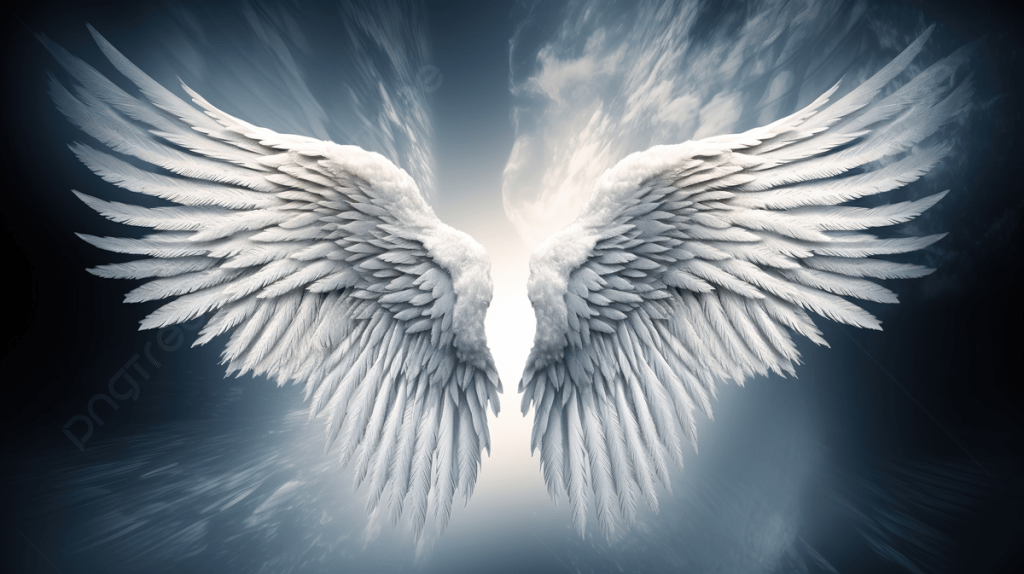 I spent the day putting together a slideshow for my youngest brother, Chris, for the Saturday Celebration of Life. Each time I scanned a photo or added it to the slideshow gallery, I could hear my voice saying, "This shouldn't be happening – this cannot be possible – how can this be?" The mind is strange because sometimes it won't make sense of reality, as if there is conflict. A little over a week ago, I got a text message from my sister saying that Chris had been found unresponsive and was in the hospital. I chatted with my tech buddy (co-worker) while preparing devices for the next school year. At the time, I re-read the text several times; she said she couldn't talk, which gave me a hint that this wasn't good news. I like to be optimistic about things if I can – it doesn't always work, and sometimes I have arguing matches with my brain to be happy. My brain was telling me this could not be good; my heart sank like the Titanic, but my spirit was fighting to be optimistic. I decided to keep working and see if I could call her or get more information in about an hour. I texted my tech pal and said, "Well, I just got a message from my sister, and I don't think it is good news." He immediately responded with what was going on. I told him about the message, and I could tell from his text he could also feel the tone and vibe that this was not good news.
Working that day was difficult because I didn't know if I should leave. Should I wait? Do I go home and call her back? Suddenly, I got another text that he was in the hospital, and they suspected he had a heart attack in Livingston, Montana, and it didn't sound good. It is a funny thing when you get messages, and you don't know what is going on, and what made the matter worse was that he was too far away to do much. I sat still for a moment, trying to comprehend that this was real, the text was accurate, and that I was not ready to face the first immediate family death.
The brain is a funny thing. The brain causes you to freeze or paralyze your ability to rationalize what is being seen, heard or said. I finally got a call into my shift, and the updates were that Chris was being transported from Livingston to Billings. In some ways, that brought a little peace, knowing he would be closer, and we could all see him and get the information on his condition face to face. So now we had to wait. At this point, I looked at the clock, and I still had roughly 30 minutes left of my shift and could not focus on work. My tech buddy was digging for updated information, and we both agreed I needed to prepare for the worst and still try to be optimistic. After a few minutes of chatting, I decided I needed to go home, change, and join my family at the hospital. I started gathering my things and sent a message to my supervisor, letting them know I was leaving my shift early and that there was a family emergency.
I remember getting in the car and driving, thinking to myself – this can't be real – this can't be happening. Maybe it is not Chris; perhaps they made a mistake. I suddenly realized that, yes, this was real, and he was on the way to Billings. I called my oldest daughter to share the news that was delivered to me. She agreed to meet me at the house, and we would drive to the hospital together to meet the rest of the family.
When things like this happen, you go through so many emotions that your body becomes numb and paralyzed because you are unsure if you can deal with the news you are about to receive, so you hang on to hope and convince yourself that it will be okay. I convinced myself to be optimistic and get the facts before assuming anything.
The wait in the emergency room and the ICU waiting area was extended. Helicopters came and went; it was clear the hospital was having a busy night. Finally, the doctor comes out to confirm Chris indeed went into cardiac arrest and is in critical condition. The fact that they didn't know how long he was down was concerning, and the family needed to determine what steps to take next – do everything possible to save him and attempt inserting a stent where the blockage was. The family agrees, and we go in and see him before they take him into surgery. Seeing your little brother breathing yet lifeless concludes the reality: yes, it is Chris, this is real, and this is not a good situation. He was only forty-two years old, not old enough to have a heart attack, although it does happen. He is the family's baby, and he should have been the one to outlive us all, but instead, he lies in a hospital bed. We all knew this could be the last time we would see him alive. We take turns talking to him. I stand aside while I watch my mom cry despair, my sister is heartbroken, my brother is still processing the news, and my niece is hurting. Silently, I think all of us knew we were saying goodbye but hoping for the best outcome.
After they took him to surgery, we decided to head home, eat, get changed, do a few things, and head back to get the news. Unfortunately, I was a little late getting back. He got out of surgery a little sooner than I anticipated. I got the text that he was out of surgery, but he coded. This would be the third time his heart would stop in over 6 hours. The family made a difficult decision to stop CPR and let him go. Again, my brain freezes, and I wonder, what do I do? How can this be? It happened so fast that my poor brain was overwhelmed with the event and news. I finally gathered myself and headed back to the hospital.
My drive was quiet, and I don't even remember driving back. I pulled up to the hospital and started walking to the ICU, knowing this was it – this would be the last time we would see him in the flesh in person. After tonight, he will be gone – forever. The previous visit was hard; it was devastating. I told myself we were lucky we had this moment and opportunity, and at least we got to see him and say goodbye.
So tonight, I wrapped up the slideshow pictures of Chris as a baby and the last picture my sister took of my brother. Even though I knew he was gone, it was hard to accept. It is hard to face the reality that we will never see him again and that we will move on without him. Whenever a picture is added to the slideshow, I hear my inner voice saying – this shouldn't be happening – I shouldn't be doing this. After visiting my sister tonight and testing the slideshow, I learned that despite the challenges he has faced most of his adult years, he was finally in a place where he was happy, loved his job, missed his dog Athena but was still blessed with Phoebe (second dog). This was not supposed to happen; his life was not supposed to end yet because, in a way, it was just beginning. For the young, 42 might seem older, but for the older, he was still young. He still had more life to live and time with the family.
I hope his next life is easier, better, and more peaceful. Saturday, we will celebrate his life, accomplishments, and the person that he was. It will be our final goodbye until we are joined again. I hope my brain will accept that this is real by then. I hope that after Saturday, I can find a way to get there. There is nothing more we can do but hang onto his memories and continue making more with those of us left behind. You will be missed, Chris, and I am sorry your life had to be short. Rest in peace and be happy, and may you be filled with love and joy in the next life.